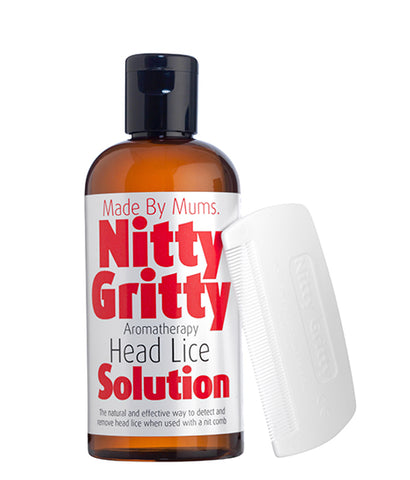 Nitty Gritty Aromatherapy Head Lice Solution Kit (with plastic nit comb)
£12.50
Three mums tried every treatment on the market when their own daughters were going through 'head lice hell'. Not only did they not work but they left their children in tears. They realised there had to be a better way... and this is it. Made by mums, kind to kids, and it really works!
The solution goes straight on to dry hair – once you have used your regular brush or comb to de-tangle, you simply apply the solution to the roots of the hair and comb through, ideally with the award-winning Nitty Gritty NitFree Comb for unbeatable results.
The solution helps the comb to glide smoothly and effortlessly through any hair type. Unlike some regular hair conditioner, the solution won't foam up when you use it, so you can really see what you're doing. With neem & added Wheatgerm it leaves the hair in shiny tip-top condition.
Note: When purchased separately from the Nitty Gritty NitFree Comb, the Nitty Gritty Aromatherapy Head Lice Solution is supplied with a regular white plastic nit comb.
Size: 150 ml (3 - 6 applications, depending on hair length)
Ingredients: Vitis Vinifera (Grape) Seed Oil, Triticum Vulgare (Wheatgerm) Germ Oil. Melia, Azadirachta (Neem) Seed Oil, Eucalyptus Globulus (Eucalyptus) Leaf Oil, Lavandula Angustifolia (Lavender) Herb Oil, Melaleuca Alternifolia (Tea Tree) Leaf Oil, Rosmarinus Officinalis (Rosemary) Leaf Oil, Pelargonium Graveolens (Geranium) Flower Oil, Helianthus Annuus (Sunflower) Seed Oil, Tocopherol, Limonene+, Linalool+, Citral+, Citronellol+, Geraniol+, Eugenol+, Benzyl Benzoate+, Coumarin+, Benzyl Salicylate+, Benzyl Alcohol+
Any questions about head lice and nits, or about any of our products? Please contact Nitty Gritty via 
mums@nittygritty.co.uk
 – it's always a pleasure to hear from a Nitty Gritty customer!